Meet The Team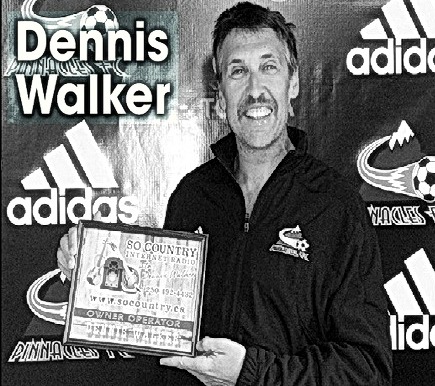 Penticton's "Man of the year" from 2003 is settling into his 4th decade behind the microphone, Dennis Walker ventures onto the internet to talk to a loyal audience he has always called his country music family.
His personal family roots are from the heart of the Kootenay's in Creston, where his broadcasting career started when he was 14 calling KIJHL hockey games, and high school basketball for community TV. A full time radio gig started not long after high school graduation at the then privately owned CFCK radio, with stops along the way in Osoyoos, Kelowna, Vernon, and Penticton.
He's picked up the Mandolin in recent years, and can bang off a few Bluegrass and Celtic tunes. He's made appearances with the Kettle Valley Brakemen and Nikita Afonso. His Fastball pitching career is winding down with cycling now a hobby and big part of his South Okanagan lifestyle.
When one of the last family owned radio stations in the country was sold in 2012, the close-knit hard working staff at GIANT FM in Penticton was let go. The programming was changed and the true local flavour was gone. 3 weeks later Socountry.ca arrived on the scene.
The station has evolved from broadcasting from Dennis's kitchen to the major move in the Adidas Sportplex, the home of Penticton Pinnacles FC. The unique glass encasement surrounds our station. Thousands of players and fans walk through the Sportsplex every year. Thank you Penticton Soccer Club for the opportunity to be here.
Dennis speaks with Raymond Geisler on Unbought and Unbossed about the circumstances that led him to launch into internet radio. Unbought265.mp3 102mb
The Honky Tonk Angels
Raina Dawn Lutz
An Osoyoos native, Raina obtained her diploma in Holistic Nutrition in Vancouver and currently consults locally and long distance as a Registered Holistic Nutritionist. Her consulting practice extends throughout the valley where she also enjoys sharing fermenting foods; bringing traditional foods to modern life. Raina Dawn is passionate about helping folks simplify food, understand weight loss and learn the effects of food on our bodies.
She also teaches yoga at Get Bent Arts & Recreation in the historic Cannery Trade Centre. Raina Dawn is a faculty member at the Canadian School of Natural Nutrition in Kelowna. Having seriously considered a career in Broadcasting Journalism, Raina is glad to have her two passions combine on Monday mornings! Raina enjoys cooking & fermenting in her bubbling/brewing science lab kitchen, yoga, hockey, classic rock, soaking up the sun while gardening, and kombucha!
Raina is involved in numerous community events throughout the Okanagan. Proud to have her voice as a part of the SoCountry team, you can connect with Raina at Get Bent Yoga, Dance & Wellness Center or on her website at LutzNutrition.ca
Sue Linekar Chaudry

Sue was born and raised in Val Therese, Ontario, and made her way to Alberta where she would meet her husband Navid and go on to raise a daughter, and two sons. Every summer Sue and her family would vacation in Gallagher Lake, and Sue can remember sitting on Skaha Beach one afternoon Navid saying, "One day we will live there" pointing to the East Side of Skaha Lake. Sue and Navid's dreams came true in 2002 when they moved to Okanagan Falls, BC where they now live on the East side of Skaha Lake.
Sue has worked with OSNS Child and Youth Development Center over the past ten years as a Behavior Interventionist in the Autism Program, and is currently working in Kinderplace Preschool.
Over the past five years Sue's three children have left home and Empty Nest Syndrome has put her out into the community! Sue can be found volunteering and getting involved with events around the community. Whether it's volunteering with the OSNS, Rotary, or other Groups, at special events such as Challenge, Grand Fondo, Fest of Ale. Sue is honoured to be part of the So Country Team, and being able to spread the word of local community events and Country Music!
Kellie Wesley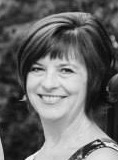 Kellie is originally from Portland Oregon - attended the University of Oregon (and is so proud to be a DUCK!) where she Majored in Fine Art & Journalism. She is married with 5 sons and 2 granddaughters.
Having worked as a caterer Kellie loves to bake and cook meals for family and friends. Now working at Sherwood Sportswear, Signs & Trophies as the manager of the Embroidery Dept. in Penticton. Kellie enjoys reading, cooking, music, Crossfit and yoga, skiing, walking her dog Ben, art and hockey.
Kellie grew up working on a farm and says "If it grows I probably picked it at one time. Berries of all sorts and vegetables...beans, cucumbers, zucchini, squash, tomatoes."
Kellie loves that her "getting in trouble in school for talking has finally paid off!" She loves being on the radio and being part of the SoCountry Team, spreading the word about our local area and great music!